In this section
Marjorie A. Ariano, PhD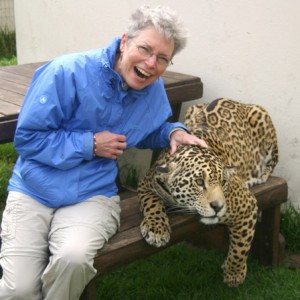 Dr. Marjorie Ariano, Professor Emeritus in the neuroscience discipline at the Chicago Medical School, received her PhD in anatomy in 1977 from UCLA. From 1977-1980, she trained as a postdoctoral fellow at the University of Southern California (Los Angeles), with an emphasis in biochemistry. After completing her postdoctoral training, Dr. Ariano became assistant professor of anatomy and neurobiology at the University of Vermont, rising to the rank of associate professor with tenure. Dr. Ariano moved to the Chicago Medical School in 1992 as a professor of neuroscience. Dr. Ariano spent 25 years investigating the distribution and functional signaling of dopamine receptors in the central nervous system. These studies examined how dopamine receptors were changed in animal models of Parkinson's disease and Huntington's disease. She is no longer actively engaged in research.
Publications
Ariano, MA, Grissell AE, Littlejohn FC, Buchanan TM, Elsworth JD, Collier TJ, and Steece-Collier K (2005) Partial dopamine loss enhances activated caspase- 3 activity: differential outcomes in striatal projection neurons. Journal of Neuroscience Research 82:387-396.
Hernandez-Echeagaray E, Cepeda C, Ariano MA, Lobo MK, Sibley DR, and Levine MS, (2007) Dopamine reduction of GABA currents in striatal medium-spiny neurons is mediated by the D1 receptor subtype. Neurochem Res, 32:229-240.
Rex EB, Rankin ML, Ariano MA, and Sibley DR (2008) Ethanol regulation of D1 dopamine receptor signaling is mediated by protein kinase C in an isozyme-specific fashion. Neuropsychopharm, 33:2900-2911.
Kim OJ, Ariano MA, Namkung Y, Marinec P, Kim E, Han J, Sibley DR (2008) D2 dopamine receptor expression and trafficking is regulated through direct interactions with ZIP. J Neurochem, 106:83-95.
Skinbjerg M, Ariano MA, Thorsell A, Heilig M, Halldin C, Innis RB, Sibley DR (2009) Arrestin3 Mediates D2 Dopamine Receptor Internalization. Synapse, 63:621-624.
West AR, Sammut S, and Ariano MA (2008) Striatal second messenger signaling changes in partial DA depletion models of Parkinson's Disease. Cortico-subcortical Dynamics in Parkinson's Disease (K-Y Tseng Ed), Humana Press. Pp. 171-184.
Participation
Research Team Member, Earthwatch
Member, Schweppe Foundation Medical Advisory Board
Director, RFUMS Faculty Development Office
Advisor, RFUMS Master Teacher Guild
Chair, RFUMS Senate Ad Hoc Bylaws Revision Committee
Champion, RFUMS Strategic Plan 2007-11, Retention & Recruitment; Sustainability
Member, Institutional Animal Care and Use Committee
Self-Study Coordinator, CMS LCME Accreditation 2011-12
Member, CMS Student Admissions Committee
Vice Chair, Department of Neuroscience
Neuroscience Chair and Faculty Evaluations